Our Veterinarians
Willow Run Veterinary Clinic Team of skilled veterinarians welcomes you to our practice. At Willow Run Veterinary Clinic, it is our daily privilege to provide quality vet care to your cherished pet with compassion and competence. We hope to ensure a positive impact on our patients, pet owners and the local community.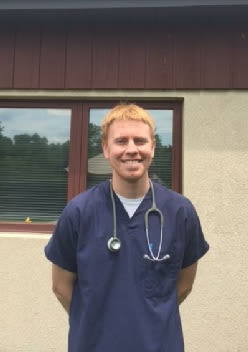 Dr. John (Jack) A. Reese, DVM
Medical Director
Dr. Reese grew up in Littlestown, PA and studied biology and mathematics at The College of William and Mary. He went on to The Ohio State University College of Veterinary Medicine, graduating in 2012. For the past five years, he worked at Mountain View Veterinary Services in Shippensburg- a mixed animal practice with about 40% large animal and 60% small animal cases. In his spare time, he enjoys hiking, photography, golf, and spending time with his wife Tricia and their two dogs, a Jack Russell Terrier and German Shorthair Pointer.
Dr. Gwenna Brubaker, VMD
Dr. Brubaker was born and raised in Lancaster County. She graduated from Drexel University and the University of Pennsylvania School of Veterinary Medicine. In college, she played on the lacrosse team and in her spare time likes cycling, snowboarding as well as golf. She also enjoys literature, music, and movies. She spends her free time with her husband, two Boston terriers, and two cats.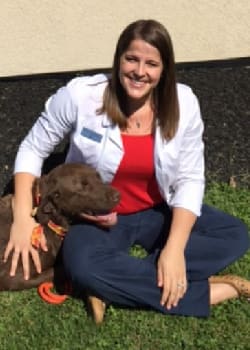 Dr. Molly Wasik-Arnold, DVM
Dr. Arnold graduated from York College of Pennsylvania in 2009 and Auburn University College of Veterinary Medicine in 2015. Her advanced coursework involved Theriogenology and her Externship focused on veterinary orthopedic and sports medicine. She did her Preceptorship at Mt. Carmel Hospital in Monkton, MD. Prior to school, she worked as an Exam Room Technician Assistant at Shiloh Veterinary Hospital in York, PA. Dr. Arnold and her husband, Clark, have three dogs and four cats. She enjoys Crossfit, baking, and hiking with her dogs!
Dr. Jessica Latham
Dr. Latham, born and raised in Quarryville, graduated from Penn State in 2003 and the University of Pennsylvania in 2007. She has worked at Willow Run since graduation. She enjoys cooking, camping, kayaking, and shopping. She lives in Lancaster with her husband and six cats.
Dr. Angela J Davies, VMD
Born in England, Dr. Davies moved to the United States in 1991. She graduated from the University of Massachusetts and earned her degree in Veterinary Medicine from the University of Pennsylvania in 2004. She has worked at Willow Run since 2009. She enjoys horseback riding, traveling, and good food.
Dr. Brett Wood, DVM
Dr. Wood graduated from Mansfield University in 1986, the University of Rhode Island in 1995, and the University of Illinois, College of Veterinary Medicine in 1999. He has worked in equine, mixed and small animal practices in NH, NY, and PA. Dr. Wood enjoys fly-fishing, skiing, and various outdoor activities. He lives in Palmyra with his wife and two daughters.